The 2020-2022 Business Plan crafted in 2019 remains essentially the same, but changes were made to account for the reforms that were instituted to prepare Alliedbankers in realizing its full potential as called for in the Business Plan. The pandemic, which is in its third year, gave Alliedbankers the opportunity to put all the necessary reforms in place while the whole world was in suspended animation due to the lockdowns.
With the country slowly coming out of the pandemic restrictions, the 2022-2024 Business Plan continues to be anchored on the premise that much opportunity remains within Alliedbankers' Captive Market and the previously untapped Provincial Open Market, thus, creating its own Blue Ocean. While Growth is the overriding objective, the Year 2022 will focus on preserving the Existing Market Base while consolidating the reforms and acquisitions of the last three years. Growth will come in 2023 when the integration of Alliedbankers and PNB Gen is already a well-oiled singular engine and the market is finally freed of the concerns related to COVID-19.
ASPIRATIONS
Alliedbankers will continue with the conviction that the business is not about selling policies. Not even mere Insurance Coverage! Our product is SERVICE. First, the Promise of Service at the time of need and, second, the Delivery of Service when the need arises.
As a result of the housecleaning started in 2019, the achievements in operational efficiency and digitalization in 2020, and the acquisition of PNB Gen at the end of 2020, the years from 2021 to 2023 were meant to increase Alliedbankers' efforts in creating its own Blue Ocean of Opportunities where our Excellent Service Delivery will result in being one of the Best Managed Non-Life Insurance Companies in the country. While 2021 continued to be challenged by the pandemic that has yet to be eradicated, great strides were achieved within the confines of a limited lockdown.
This aspiration for Excellent Service Delivery shall be defined by:
1. Turn Around Time
Simply put, clients and partners should not feel they are waiting for a Claim to be Paid and the Commission to be Released. In 2020, the Motor Claims TAT was set at 17 days from filing to settlement. For Non-motor Claims, it was set at 33 days. This will be reduced further over the next three years. For Year 2021, Motor Claims TAT was reduced to 7 days while Non-Motor Claims was at 15 days, net of delays from third party dependencies.
In addition, for Motor Line, we were able to release the Letter of Authority ("LOA") within 48 hours upon submission of the necessary documentary requirements.
For the commissions of provincial agents, we are closing in on our target of releasing these within 48 hours from confirmation of payment.
2. Holistic approach to Risk Management
Embark on a conscious effort to shift from a business of merely selling policies where endless haggling on premiums can and will be detrimental to both ABIC and the Assured. ABIC shall move forward to focus efforts on the Assured's Complete Protection at the time of need. This holistic approach requires a customized Risk Management Partnership with our clients and partners, both corporate and individual.
3. Quantifiable Metrics
A. Financial Stability
i. Risk-Based Capital Adequacy Ratio: 200% – 250%
ii. Liquidity Ratio: 100% – 150%
B. Profitability
i. Production Growth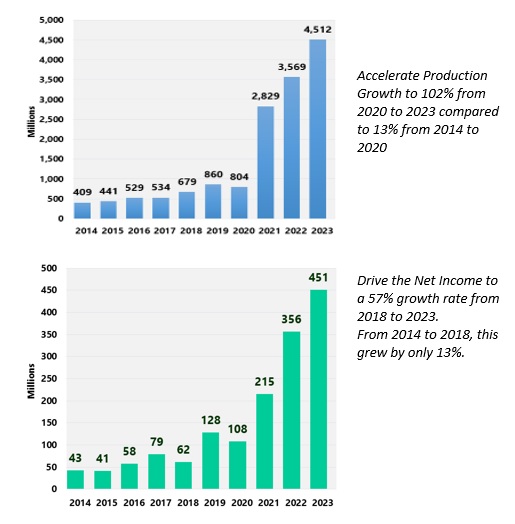 ii. Net Income Ratio:        Around 25-30%
     iii. Combined Ratio:          Below 80%
     iv. Retention Ratio:           60%
     v. GAE                                 Around 20-25%
C. Portfolio Mix
i. We drive to the Mix that we want, not live with the mix that we get
ii. Dynamic Pricing to influence the mix
iii. Five Lines almost equally accounting for 70% of Portfolio
iv. Go for High-Margin but Low-Loss Ratio lines
4. Culture
Professionalism. Create a culture of professionalism, ownership leading to commitment, a sense of responsibility without fear, and fairness by harping on the observance of the Golden Rule: "Do unto others as you would want others do unto you".
Compliance. Empowerment of the Internal Audit Department and the Compliance Department to ensure that regulatory compliance, together with appropriate Risk Management, are the base mindset of every officer and staff.
5. A Force for Reforms
Encourage active participation by the key officers in industry organizations with pushing industry reforms as an underlying motive.
KEY SUCCESS FACTORS
1. Talent
Qualified People:
Overcome Training obstacles

Provide dedicated funding and review the present contract to remove provisions that discourage employee participation in trainings.  
Classify the Basics (e.g., Basic Non-Life Seminar, Accounting for Non-Accountants, etc.) as contract-free.
Revise the Training Contract Provisions to limit tenure requirement to one year while a longer contract kicks in when training cost exceeds 20% of annual compensation of the employee.


Review Pay Scale      

With a lower pay scale compared to the industry, review and adjust the existing pay scales without busting the cap on GAE as a percentage of the Net Premiums Earned.

Over the last two years, ABIC's compensation structure has been standardized according to rank and function. This was followed by a limited salary adjustment scheme to further the standardization. In addition, non-cash benefits were upgraded.

To strengthen this further, the conduct of the performance appraisal was professionalized by employing tools to remove subjectivity and adhere strictly to a performance-based rating system.
2. Technology for Data Analytics and Digitization
All the improvements in services and management's decision-making are anchored on a dynamic data processing system and data analytics. To this end, ABIC closed 2021 with a robust and ready-to-be-customized GENiiSYS. This will further enhance the capabilities of the Data Analytics Unit that was created in 2019 becoming an important tool for ABIC's Top and Middle Management.
For Year 2022, ABIC's new system will enable the Sales Team to use digital mobile devices in Product Distribution and Channel Management. This will be an expansion of the mobile-based portal for the bancassurance business into the hands of ABIC's agents, branch heads, and sales heads.
3. Best Practices: Business Process
Give importance to the use of proven Best Practices by initially, having all the policies and procedures formalized. While this has come full circle in the first quarter of 2021 with the final BRD, this will continue until all business policies are ultimately consolidated into a handbook. Even after that is achieved, this will continue to be a work-in-progress to ensure that ABIC does not slide back on its Service Delivery promise.
4. Distribution Network: Digital and Physical
With the system overhaul, the enhancements will include adaptability to mobile business including connectivity to various payment systems. This is part of the final recommendations of the system review under Project Pearl. Mobile connectivity will allow ABIC to go beyond the existing brick-and-mortar distribution channels. The seeds were planted with the online eCTPL channel, the ABIC All-In 888 Banca Portal, the online Travel Smart Personal Accident channel, and, soon, a Partners Portal for all agents nationwide.
5. Financial Strength
The continuing program of the Insurance Commission to increase the Minimum Net worth to PhP1.3 billion and, consequently, reduce the number of industry players to well below 40 only means that the future landscape will be left to the big industry players. The acquisition of PNB Gen is an initial step as it puts ABIC in the Big League. The combined financials of the two companies will put ABIC in the Top Ten of most of the industry's metrics.
To sustain its newfound ranking and survive with strength within the next three years, ABIC will either have to get hefty equity infusions from the current stockholders or allow the entry of a Strategic Foreign Partner who can provide expertise, technology, product development, and capital to grow the current portfolio.
FACTORS FOR CONSIDERATION
1. Threats
The Blue Ocean of Opportunities is attractive but it will not be easy to swim on for, below the surface, sharks could be lurking. Risks, however, are not there to be merely avoided but, rather, are there to be managed.
A. Regulatory Risk. The Regulatory Bodies' Strict RPT compliance requirements could dwindle ABIC's Captive Market. While this may sound like a threat to ABIC's business, it can be managed and become an opportunity. Nothing short of strict adherence to Related Party Guidelines is the best way to manage this. Appropriate Corporate Governance policies were finalized, approved by the Board, and have been strictly adhered to over the last two years. Furthermore, the internal audit and compliance units were strengthened with the hiring of additional professionals who will ensure compliance.
B. Increasing Market Competition. The Insurance Commission's continuing program to strengthen and professionalize the industry through increasing Minimum Net Worth can only lead to bigger competitors that could threaten ABIC's sustainability. ABIC is approaching this in three ways: Find growth in the provinces where the competition is less, competitive pricing, and excellent service delivery.
C. Digitalization. The predominantly manual operations of ABIC three years ago were a serious threat that needed to be addressed. While ABIC has successfully launched a product that is distributed through a mobile app, the current system is not yet fully ready. However, this was a good first step forward. Project Pearl which aims to overhaul the Business Process and IT Infrastructures of ABIC coupled with the acquisition of GENiiSYS through PNB Gen will see this threat turn into a competitive advantage when completed by year end.
D. ASEAN integration. The ASEAN integration, which is expected to occur on or before 2025, will undoubtedly put ABIC at a disadvantage, but the possibility of acquiring a strategic foreign partner before that time is a reasonable risk-mitigation move because it will provide ABIC with the capital resources, access to technology, products, technical expertise, and regional reach necessary to compete in a new environment.
2. Opportunities
A. Untapped Market Potential. The Non-Life Insurance Industry's 2.5% penetration of the country serves as a large opportunity for ABIC. This, however, requires a strategic emphasis on, and identification of, areas where competition remains weak. This is precisely the essence of ABIC's Blue Ocean Strategy. There is a compelling reason to go retail, without sacrificing the big-volume BGAA partnerships in urban centers, to create niches. The acquisition of PNB's 15 branches and their conversion into Nationwide Distribution Network augurs well for the plan to tap this potential.
Likewise, the acquisition of technical talents from PNB Gen will allow ABIC to increase its market share in the BGAA business.
B. ASEAN Integration. While this is a potential threat, it is also an opportunity. It offers possible partnerships with regional players thus, a wider market for ABIC.
3. Strengths
A. ABIC's Captive Market provides a baseline income that gives it cushion for uncertainties and the flexibility to define its terms.
B. Solid Financials allow ABIC to take on additional risks, higher retention, and acquire competencies.
C. ABIC's Biggest Strength is the Unity of the Board and Senior Management in the recognition of its weaknesses that is matched by their willingness to change.
4. Weaknesses
A. Reliance on a Captive Market
While there is reliance on the Captive Market, this is not exactly a complete dependence since these account for only 66% of ABIC's Gross Production. On the other hand, the Captive Market provides a stable base of income that allows ABIC to take on the Open Market. Secondly, it is a market, especially in the LT Group of Companies, that presents a definite renewal business both in good and adverse times.
B. Weak Systems
Having grown internally with a focus on a Captive Market, ABIC's Business Processes and Information System leave much to be desired. Fortunately, there is recognition of this inadequacy across the organization, from the lowest rank to the Board of Directors. Changes under Project Pearl were completed by the end of 2021.
C. Shallow Bench
Aside from, or as a result of, having a lean organization, ABIC lacked the most critical skills and talents to meaningfully fully serve its Captive Market, at the very least, and dream of profitably navigating the Open Market. In 2019 and 2020, skills were acquired through recruitment and training of existing personnel in the areas of Underwriting, Claims Processing, and Sales Support. The acquisition of PNB Gen has remedied this with their talents in Sales, Finance & Accounting, Underwriting, and Claims, among others.
D. Narrow Network
ABIC has only 5 branches as of March 2021, which, to a large extent, are really small operations that, originally, mainly serve the branches of Philippine National Bank ("PNB"). These are being strengthened to target not only PNB's banca business but also the open market retail business, as well. By September 2021, this grew to a 15-branch network that will be transformed into a Branch Distribution Network.
The Year 2022
1. SALES
A. Targets
For Year 2022, ABIC Gross Production is expected to be slightly lower than 2021 while expanding the Net Premiums Written by 5% with a concentration on High Retention Low Loss lines.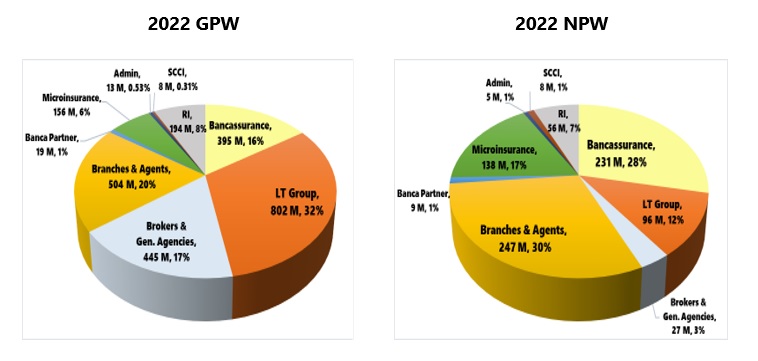 B. Markets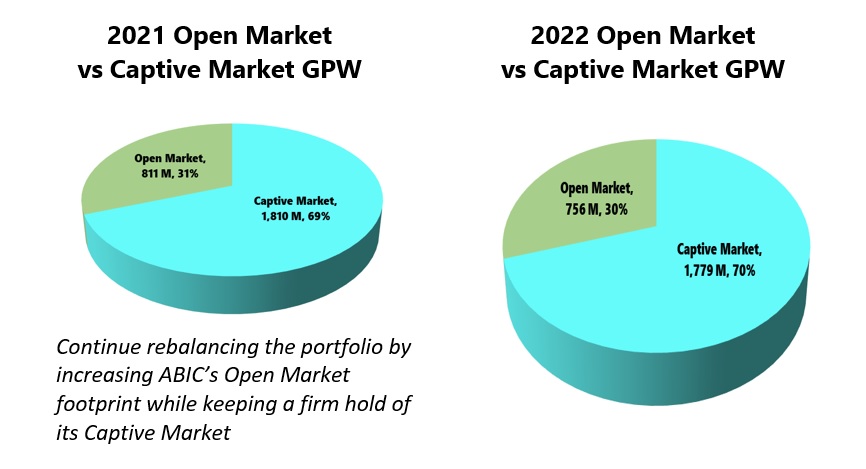 i. Captive Market
LT GROUP OF COMPANIES. ABIC will continue to strengthen its management of the LT Group of Companies through a holistic Enterprise Risk Management approach by working with the individual companies' risk officers in analyzing and managing their enterprise risk exposures. As such, while the overall business relationship is under Sales & Marketing, Underwriting will manage the companies' Risk profile.
While ABIC recognizes the value of the LT Group as a captive market, the Management is also cognizant of the risks from "self insurance". With this in mind, ABIC will rationalize its retention policy with the aim of reducing its retention to an optimal level while, at the same time, leveraging the ceded amount to raise better pricing for the LT Group.
In addition to the present crop of LTG Companies that ABIC is managing, ABIC will tie up with LTG Serves, an aggrupation of various LTG companies' employees to be a provider of coverage to the thousands of LTG employees.
PNB BANCASSURANCE. Armed with a 15-year exclusive bancassurance agreement with Philippine National Bank ("PNB") starting April 2021, ABIC will be able to maximize the potential of the bank's clientele.
Beyond the regular banca products, ABIC will continue to introduce bundled products that are affordable and easily distributed through mobile apps. With the success of ABIC All-In 888, a commuter protection bundle that is inexpensive and mobile app-enabled, similar products anchored on Fire and other Lines have already been launched and more will follow. This combination of affordability and mobile technology has allowed the Bank's Corps of Referrers to expand their reach beyond PNB's Depositor Base. It has created a database of potential clients for the Bank and ABIC from ABIC All-In 888 clients who are classified as "New to the Bank".
ii. Open Market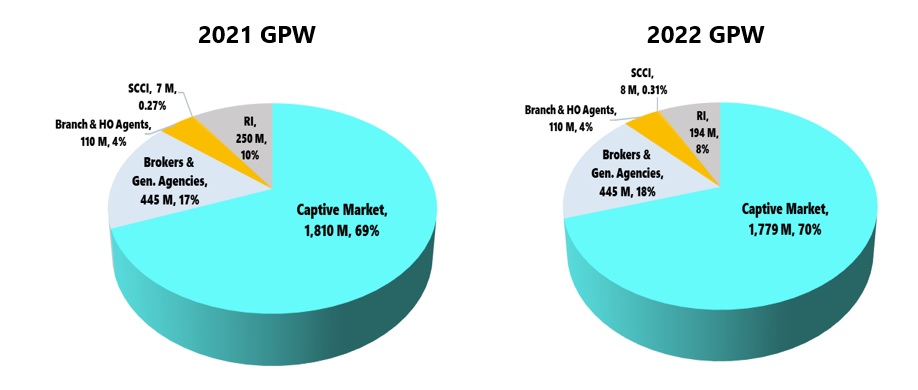 With the necessary Underwriting Policies and Claims Processing TAT in place, ABIC will continue to expand its foray into the Open Market. At the forefront of this thrust will be the industry's Brokers and Agencies, sizable organizations like cooperatives, and ABIC's own Branch Network.
Brokers, General Agencies, and Agents ("BGAAs"). Instead of taking a shotgun approach, ABIC will continue to carefully select BGAAs that will be a part of the ABIC Distribution Ecosystem.
While the engagement of General Agencies did not perform well in 2020 due to the spillover of the results from relationships that started in 2017, this remains a potentially attractive channel and a more rational approach will be employed to re-engage this sector starting in 2021.
Brokers, on the other hand, were given special attention in 2019-2020 and, rightly so, ABIC's production from this channel increased by 73%. Moving forward, the coverage of Brokers will be widened while still employing the same focused channel management approach and supported by data analytics to ensure that risk management policies are not compromised while optimizing ABIC's surplus capacities.
Branch Distribution Network. The expanded branch network will continue to be the catalyst in spreading the reach of ABIC in locations where competition is less, the loss ratio is lower, and the margins are higher. This spells retail PA, Motor, and Fire.
Sizable Organizations and Microinsurance. The Open Market push will include a focused effort on microinsurance through a partnership with Cooperatives and other similar organizations. Agreements have already been inked with Cebuana Lhuillier while PNB Gen comes with a collaboration with Palawan Pawnshop. This market segment started to bear fruit in 2021, albeit on a modest scale.
C. Distribution Channels
ABIC will continue to expand its partnerships with Brokers, Dealers, Agencies, and Cooperatives, in addition to its own regional branch network.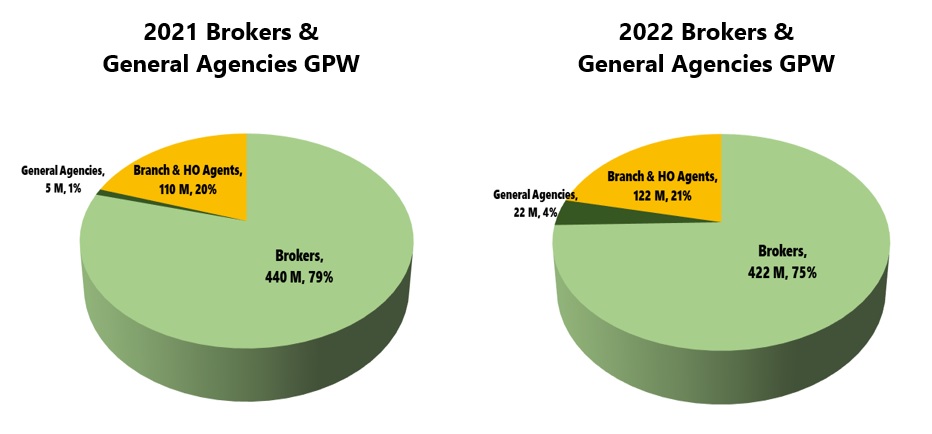 D. Portfolio Mix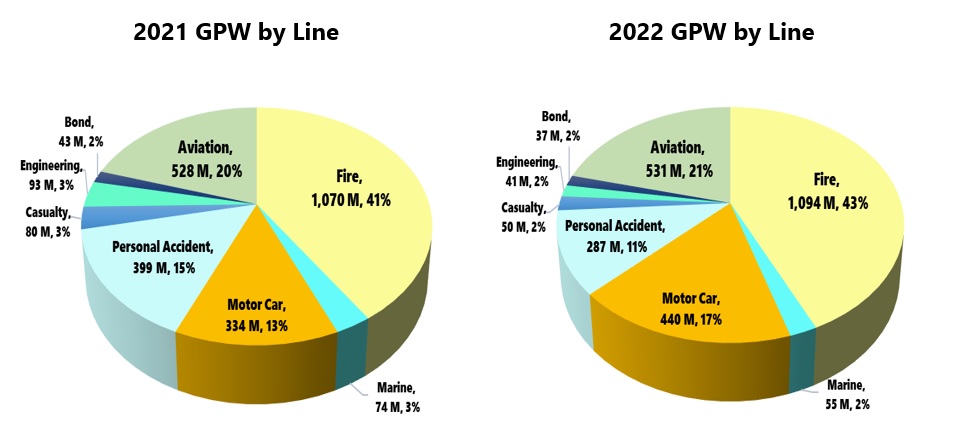 ABIC will continue its focus on High-Retention-Low-Loss Ratio products while adding another line to the current Three-Line (Fire-Motor-PA) pillar that underlie ABIC's portfolio. Expertise through recruitment and trainings of existing personnel will be acquired to ensure preparedness and an increase in other lines to further spread ABIC's risk and reduce portfolio risk.
2. UNDERWRITING
A. Earnings at Risk. ABIC will continue to observe an EAR Limit which, given the Y2022 Budget, will be set at PhP55 million per policy.
B. Dynamic Pricing. To remain competitive and relevant to its clientele, ABIC's premiums will be regularly reviewed, updated, and adjusted according to each sub-line's risk profile, profitability, and accumulation. This will continue to be employed to maximize margins, minimize risks, and constantly redirect sales and marketing efforts towards the year's targets. The weekly and/or monthly monitoring of production, profitability, and concentration risks on a sub-line basis, and the use of RI and RI Brokers' Online Statistical tools will allow ABIC to use Dynamic Pricing based on real-time year-to-date figures. This was realized with the hiring of Mathematicians, Statisticians, and Actuaries for up-to-date strategic information.
C. Line Expertise. The competence of the current Underwriting Corps of officers will be enhanced through various trainings offered by IIAP, the Reinsurers in the Treaty Panel, and the Treaty Brokers.
3. CLAIMS
A. Turn Around Time ("TAT")
With more than 70% of both motor and non-motor claims paid out within the allotted turnaround time (17 days and 33 days, respectively), this will be further improved by reducing the TAT by 30-40%.
B. Personnel Complement
With the acquisition of PNB Gen, the resulting personnel complement will already be in place. Further specialization and talent acquisition will be acquired through local and foreign trainings.
C. Third Party Services
To further improve ABIC's services and shorten turnaround time, various third-party service providers will be employed in the following areas:
Recovery and Salvage Disposal
Claims Inspection/Adjustment
4. INFRASTRUCTURE SUPPORT
To ensure that the front line in Production and Service Delivery accomplishes their mandate, the abilities of IT, Accounting, and HR will be enhanced through the recruitment of talents and enhancement of competencies through training.