The Insurance Commission has recently introduced regulations requiring insurance companies to
implement sustainability programs as part of their corporate social responsibility initiatives and key
operation system for business performance. Alliedbankers Insurance Corporation (ABIC) as a
responsible corporate entity, has taken steps to comply with these regulations by implementing
sustainability programs aligned with the principles of sustainability.

ABIC has been committed to sustainability and corporate social responsibility (CSR) initiatives. The
Company's sustainability strategy focuses on the value chain and how sustainability is integrated
into the business operations. The Company continuously promotes sustainability practices to its
stakeholders in the workplace and their personal lives.
ABIC's sustainability initiatives are classified into the following major areas:.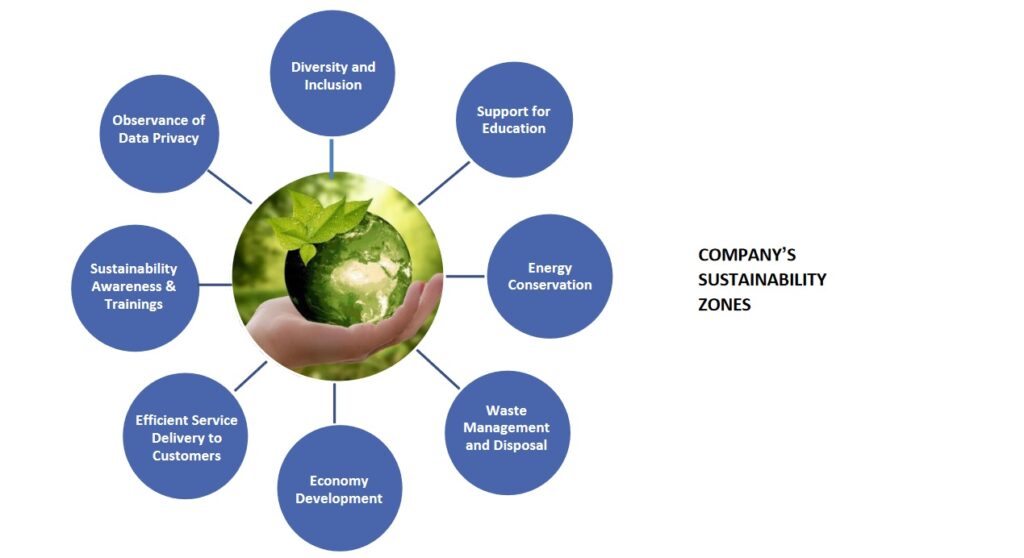 Our Corporate Strategy and Operational Execution
Support for Education
ABIC has been committed to promoting education in the Philippines. The company has donated
computers and school supplies to schools in need, which has helped students access technology
and improved their learning experience.
SDG 4 – Ensure inclusive and equitable quality education and promote lifelong learning
opportunities for all.
Energy Conservation
ABIC recognizes the importance of reducing its carbon footprint and has implemented measures to
conserve energy. The company has installed energy-efficient lighting in its offices, which has helped
reduce energy consumption. ABIC also encouraged its employees to participate in an energy
conservation campaign by turning off electronic devices when not in use, including office lights
every day during lunch breaks, which has further contributed to energy preservation and managing
cost efficiency.
SDG 7 – Ensure access to affordable, reliable, sustainable, and modern energy for all.
Waste Management and Disposal
ABIC has also implemented waste management practices that aim to reduce its impact on the
environment. The company has established recycling programs in its offices and branch, which
have helped reduce the amount of waste sent to landfills. The company has partnered with a third
party for the disposal of garbage including paper for recycling. The company has also encouraged
its employees to use reusable containers for water and coffee, which has reduced the use of single-
use plastic bottles and cups.

ABIC also had a successful implementation of the 5S program, which requires a collaborative effort
from each of its employees and a commitment to maintaining a clean, safe, and organized work
environment.
SDG 3 – Ensure healthy lives and promote well-being for all at all ages.
Likewise, the company has also implemented a sustainability program that aims to promote
economic development.
Economic Development
ABIC has implemented various programs to support economic development through financial
investment in the capital market. These include providing loans and financial assistance to small
and medium-sized enterprises, supporting microfinance programs, and investing in socially
responsible businesses.
ABIC recognizes the crucial role that finance plays in promoting sustainable development, and it is
committed to aligning its investment strategies with its environmental, social, and governance (ESG)
goals. The company's products and services provide society with financial support in the event of
adversities.
Over the past year, ABIC has continued to integrate ESG factors into our investment analysis and
decision-making processes. Following this direction, 24% of the ABIC's total assets under
management are invested in over 76 companies that have demonstrated strong ESG performance.
Further, the company has divested from companies that have failed to meet its ESG standards.
ABIC has invested a total amount of PhP2.4 billion in 2022.
While ABIC's achievements are noteworthy, the company recognizes that there is still much work
to be done. ABIC will continue to monitor and report on its progress and will strive to improve its
ESG performance over time.
SDG 8 – Promote sustained, inclusive and sustainable economic growth, full and productive
employment and decent work for all.
Sustainability Awareness and Trainings
ABIC has implemented sustainability awareness and other training programs to all of its employees
to develop a culture of development, sustainability, and improve the company's overall social
responsibility. This leads to cost savings, increased efficiency, and an improved reputation among
customers and stakeholders.
SDG 4 – Ensure inclusive and equitable quality education and promote lifelong learning
opportunities for all.
Diversity and Inclusion
ABIC has created a culture of diversity and inclusiveness where its objectives and commitment are
openly shared with employees to promote understanding and respect for one another's
differences. The company also has a hiring process that is open to a diverse pool of candidates to
avoid bias and discrimination.
ABIC has also implemented policies and practices that are inclusive and accommodating to all
employees, such as flexible work schedules, work from home arrangement (hybrid set-up),
parental leave, and accommodations for employees with disabilities.
ABIC recognizes the diversity of employees through events, activities such as birthdays,
promotion, regularization, Parental Day, and communication channels such as internal electronic
email or social media platforms.
By implementing these strategies, ABIC can establish a more diverse and inclusive environment
that values and respects differences among our employees, promotes engagement and
productivity, and fosters a sense of belonging and community.
SDG 8 – Promote sustained, inclusive, and sustainable economic growth, full and
productive employment and decent work for all.
Efficiency of Service Delivery to Clients
ABIC has been true to its vision of becoming the best in service delivery as it receives numerous
positive feedback from its clients. ABIC has continuously improved its turnaround time to ensure
client satisfaction and provide efficient customer service.
SDG 3 – Ensure healthy lives and promote well-being for all at all ages.
Observance of Data Privacy:
ABIC is committed to safeguarding all personal data provided by its customers, clients, employees,
and all relevant stakeholders. The company ensures that these are collected, used, stored,
transferred, and disposed in accordance with the Data Privacy Act of 2012, its implementing rules
and regulations, and other relevant issuances by the National Privacy Commission
ABIC always guarantees the integrity and protection of all information it maintains while protecting
the users' fundamental rights to privacy. Access to information is restricted within ABIC. Requests
to access to information by any third party will only be permitted upon approval by ABIC.
SDG 16 – Promote peaceful and inclusive societies for sustainable development, provide
access to justice for all and build effective, accountable and inclusive institutions at all levels
Compliance with Insurance Commission Regulations
The sustainability programs implemented by ABIC are aligned with the principles of sustainability
and comply with the regulations set by the Insurance Commission. The company shall establish a
sustainability committee to oversee the implementation of future programs and ensure compliance with the regulations.
ABIC has taken steps to comply with the Insurance Commission's requirements on sustainability
programs. These programs demonstrate the company's contribution to the achievement of a
sustainable future. The company also complies with the IC's mandatory requirement on net worth
to sustain its business as well as continued jobs for its employees.
ABIC has adopted the Global Reporting Initiative (GRI) framework to guide our sustainability
reporting and to ensure that the company provides accurate and transparent information on our
sustainability performance. Our sustainability report covers the key sustainability issues that are
relevant to our business and stakeholders.
ABIC recognizes its clients, investors, and other stakeholders for their continued support and
commitment to sustainability. The company believes that by working together as a team with one
goal, everyone can build a more just, equitable, and sustainable future for all.
Value Chain
ABIC has demonstrated its commitment to sustainability through the company's support for
education, energy conservation, waste management, diversity and inclusion and financial
investment practices has helped reduce its impact on the environment and promote sustainable
development in the Philippines. ABIC's sustainability initiatives are a testament to the company's
commitment to responsible business practices and its role in promoting sustainable growth.
Additionally in summary, our initiatives demonstrated how ABIC has integrated sustainability into
its value chain, creating shared value for its stakeholders, people while reducing its negative impact
on the environment.
ABIC engaged with the various stages of a typical value chain, starting with the inputs and ending
with our final service. Again, another focus of this report is on the integration of sustainability
practices into each stage of the value chain.
Our Strategic Management in the Age of Sustainability
Corporate Sustainability Framework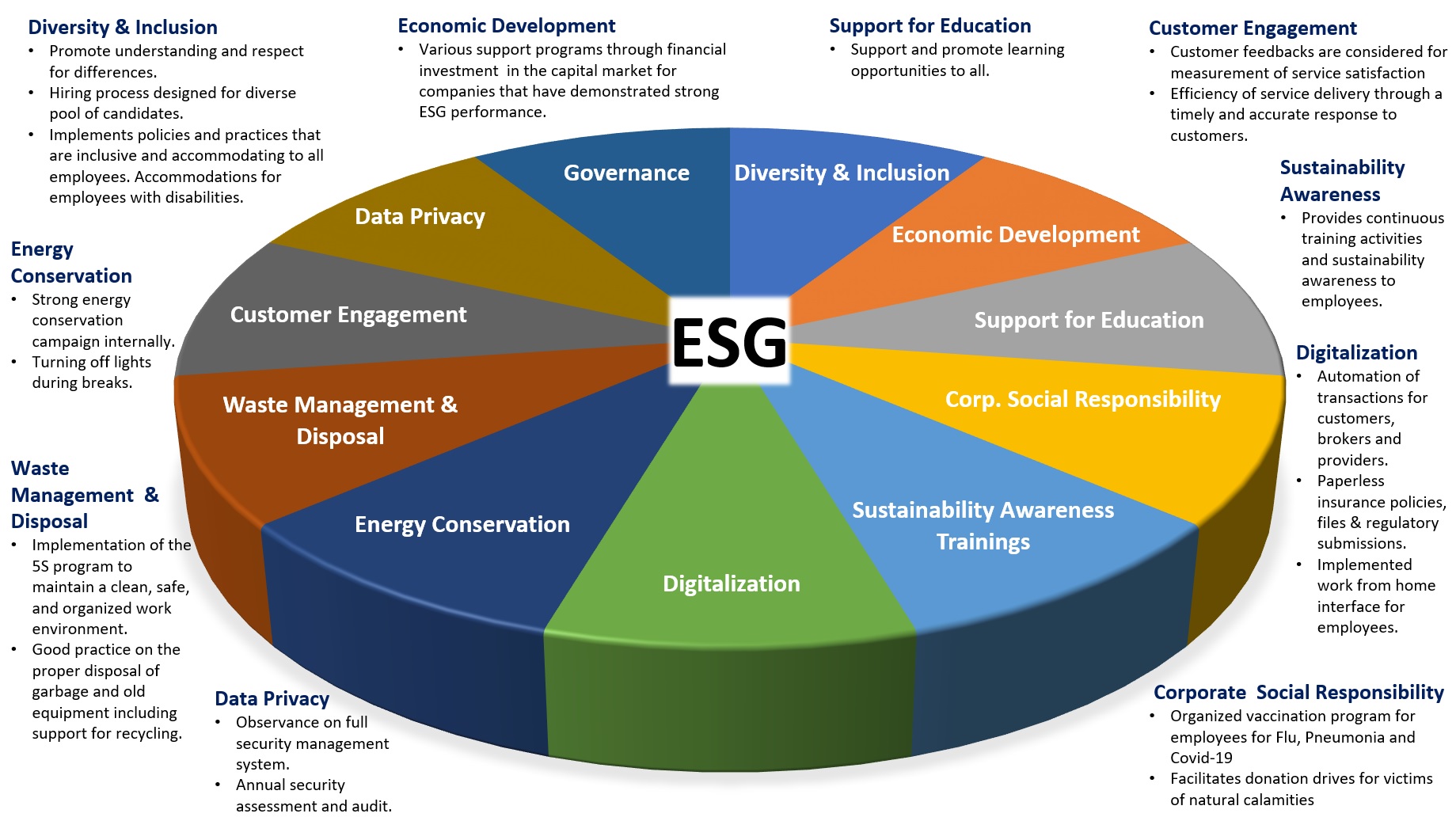 To further strengthen the sustainability programs of Alliedbankers Insurance Corporation, the
company is considering a concrete plan to conduct a sustainability audit to assess the impact of its
programs on the environment, society, and the economy. This can help identify areas for
improvement and ensure that the programs are aligned with the company's sustainability objectives.