As we all know, the Christmas season had just rolled around. Most of us attended family reunions and feasted on food and other things. Of course, we gave and received countless gifts to our inaanaks and from other relatives.
This year, the ABIC family celebrated Christmas in a lot of ways. First, we did our annual gift giving at Sta. Cruz Church. You see for us, December isn't just about receiving bonuses and drowning ourselves with presents. It is also the season for us to give back and let these children experience what we have. Though it may not be a lot but for others, it already means a lot.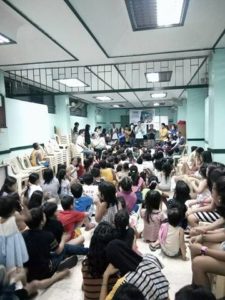 We also celebrated by having our annual Christmas Party held at the Philippine Jin Jiang Association. This year, we outdid ourselves by portraying different pop culture icons from the past decades. This we dubbed as "ABIC DOES… ICON CLASH". The employees were divided into 3 groups with the first being the icons from the swinging 60's and funky 70's. Headed by our AVP/Chief Accountant Ms. Eileen Sy, they did their best ABBA, Chubby Checker and Tina Turner impersonations.
If that wasn't groovy enough, the second group danced and impersonated icons from the ultra hip late 90's all the way to the 2000's. They even impersonated local showbiz personalities like Babalu and did their own version of the viral hit, "Baby Shark".
The last group was the flashy 80's and early 90's.This group is the epitome of guilty pleasure. From Michael Jackson, Cindi Lauper, Randy Santiago all the way to Hagibis, this group danced what goes well with cobra hair and shoulder pads.
All the production numbers were actually for friendly competition. But just like my previous article, winning the whole thing is not the main goal. All the competition was done for us to have fun and more importantly, show unison.
Also, another way we celebrated Christmas is simply by being thankful. Thankful because we are here and thankful that we have the ability share. That is why to sum it up, we have showed how thankful we are through this video. You may watch the below:
From the ABIC family to yours, thank you for the love this Christmas and all year round!#ABICares#RealpeopleRemarkablecare#ABICPaskongPasasalamat

Posted by Alliedbankers Insurance Corporation on Sunday, December 24, 2017
Special thanks to our sister company Tanduay for the free flowing cocktails last December 22.