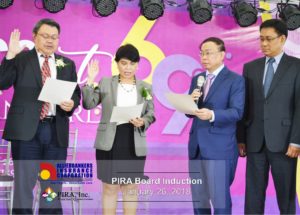 Last January 26, 2018, the Insurance Commission held its anniversary celebration and was attended by the executives of the insurance industry. During the same event, the Philippine Insurance and Reinsurers Association or PIRA, Inc. had its board induction led by its new Chairperson, Ms. Rebecca B. Dela Cruz, President/CEO/Director of Alliedbankers Insurance Corporation.
A Certified Public Accountant, Ms. Dela Cruz, began her career in Finance as an Auditor of the Sycip Gorres and Velayo Company before she moved to the banking sector, and later on to the life and non-life insurance firms of the Lucio Tan Group of Companies. Ms Dela Cruz is also a Certified Management Accountant and a Fellow of the Life Office Management Institute.
As the new Chairperson of PIRA, Ms. Dela Cruz promises to lead the organization in navigating the challenging waters of increased capitalization, regulatory and financial reporting framework, corporate governance, coupled with industry disruptions and innovation, and growing threats of climate change and cyber crimes.
The new Chairperson recently led the members of PIRA in a seminar on the Data Privacy Act, a measure that stands to impact the industry, which thrives heavily on trust, reputation and delivery of service and commitment, being heavily involved on data and privileged information in managing the risks of clients.
Through the leadership of Ms. Dela Cruz, the insurance industry is looking forward to embrace new innovations and celebrate new milestones.
1,753 total views, 2 views today